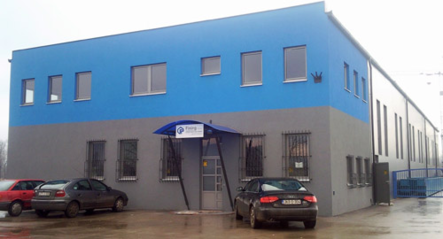 FINING Ltd. Gracanica was founded in 2002 with two employees in a rented hall and is registered as a trading company for the sale of used equipment for the construction and delivery of refurbished industrial cranes from German manufacturers. However, over time we opted exclusively for industrial cranes (refurbished and new), and the manufacture of lifting and handling equipment, which is today the registered activity of our company.
FINING Ltd. currently employs 45 workers, we moved into a new production hall covering 1,500 square meters, with and an outdoor asphalt-paved polygon covering 2,500 square meters as production space. Here, too, is the office space to service production, and the design office.
"We have delivered 500 industrial cranes, bridge, gantry, cantilever cranes, monorail, freight platforms, traverse slings, crane hoists, crane rails, feeders and equipment, vibrating tables, equipment for recycling concrete etc ... The director of Fining, Midhat Cehajic adds that, in addition to production of cranes, a very important activity this company is involved in is the reconstruction and modernization of existing industrial cranes, as well as their adaptation to to the new technological requirements of the customer, which is, as Cehajic points out, especially important in today's difficult economic conditions.
FINING Ltd. also services and repairs all types of existing industrial cranes and other equipment for cargo handling and lifting.
The company employs mechanical engineers, economists, and mechanical technicians, and other employees are professional and highly skilled workers in the fields of electrical and mechanical engineering, who gained the experience and expertise from years of working with this type of equipment. In addition, for the design and development, the company employs electrical engineers as external consultants.
In addition to the entire territory of Bosnia and Herzegovina, FINING Ltd. has been delivering cranes  to Croatia, Serbia, Montenegro, Macedonia and Albania - for more information, see our reference and our photo gallery.
Also, we are proud to emphasize that from 1 January 2009, FINING Ltd. is the general distributor for Bosnia and Herzegovina of the largest producer of industrial cranes in the world, German company Demag Crane & Components, as well as the largest company for port cranes in the world, German company GOTTWALD PORT TECHNOLOGY.